Sustainable urban structures to challenge climate change
Keywords:
public space, urban structure, regeneration, urban policy
Abstract
Public spaces within the city in all their form of different types - streets, boulevards, squares, plazas, market places, green areas - are the backbone of cities. Over the centuries buildings defined the shape and quality of public spaces, valorising them in various ways. The post-modern development of urban form generated a great number of "urban spaces", where there is no longer correspondence between architectural forms and social and political messages: shopping malls and theme parks, inner public spaces, strip developments etc. Urban sprawl accompanied by loss of agricultural/rural land and its impact on the environment are serious concerns for most cities over Europe. To strike the right balance between inner city regeneration, under-use of urban land in the old abandoned sites and the ecological benefits that accompany the new private business initiatives in suburban areas, is one of the major challenges confronting cities in Europe. The paper will analyze the complex relations between architecture and public space, in an attempt to understand how traditional urban structures, public and green spaces, squares and streets, could provide orientation for quality-oriented regeneration. Case in point is Bucharest - capital city of Romania - where aggressive intervention in the urban structure during the 1980s disrupted the fabric of the city. The investigation is oriented towards fundamental questions such as: how to secure and preserve sites that serve as initial points in upgrading processes, how to balance private investment criteria and the quality interests of the urban communities.The major aim is to provide a support for decision making in restoring the fundamental role of public urban space in shaping urban form and supporting community life.
References
Jacob, J. (1961) The death and life of great American cities. London, Penguin Books
Cooper, R., Evans, Gr., Boyko, Chr., ed.: Designing Sustainable Cities. WILEY-BLACKWELL.2009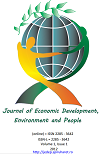 How to Cite
CREANGA, E., & DUDA, M. (2012). Sustainable urban structures to challenge climate change. Journal of Economic Development, Environment and People, 1(2), 35–42. https://doi.org/10.26458/jedep.v1i2.11
License
Journal of Economic Development, Environment and People
by
Authors
is licensed under a
Creative Commons Attribution-NonCommercial-ShareAlike 4.0 International License
.
Based on a work at
http://ojs.spiruharet.ro/index.php/jedep/issue/archive
.