SOCIALY RESPONSIBLE MARKETING - YESTERDAY AND TODAY
Keywords:
socialy responsible marketing, ethical business, ecologicac principles
Abstract
Several factors direct the companies to apply a higher level of corporate social responsibility: the increasing expectations of customers, changes in expectations of employees, laws and government pressure, investor interest in the social criteria and changes in supply practicesThe basic principles of socially responsible marketing as an ethical business, respect for ecological principles and respect for the legislation. Organizations must ensure that all employees know and observe the relevant laws.Companies must adopt and make available to the written rules of ethics, to develop tradition of ethical conduct in the company and impose a responsibility to his men to follow ethical and legal guidelines.By adopting these or similar principles, companies can create opportunities to reduce current and future costs, strengthen competitiveness and market position and achieving greater profits.In contemporary business, more ecological component is present in the execution of business activities as an important prerequisite for improving competitive advantage and company image. Awareness of the issue of environmental protection in companies has evolved primarily as a result of the influence of customers and various non-governmental and non-profit organizations on marketing orientation of companies, and the requirements for the development of products and services that meet environmental standards and consumer needs. 
References
Egan J., Back to the Future: Divergence in Relationship Marketing Research, Marketing Theory, 2003.
Filipović V, Kostić M, "Marketing - Theory and Practice", FON, Belgrade, 2005.
Filipović V., Kostić - Stanković M., Marketing Management, FON, Belgrade, 2007.
Kotler P, Lee N, Corporate Social responsibility- Doint The most Good For Your Company", John Wiley&Sons, INC, New Jersey 2005
Kovač-Žnideršić, R., and D. Marić. "Ethical dimensions of relationship marketing." Annals of the Faculty of Economics (2009): 147-156.
Marie E. Murgolo-Poore, Leyland F. Pitt and Pierre R. Berthon, Three Theoretical Perspectives on One of Marketing's Most Fundamental Exchanges: Propositions on Personal Relationships, Marketing Theory 2003; 3; 235
Milisavljević M., Marketing, Modern Administration, Belgrade, 2003.
Payne Adriane, Martin Christoper, Moira Clark, Helen Peck, Relationship Marketing for competitive advantage winning and keeping customers", Butterwort-Heinemman, 1999.
Radnović B, Ilić M, "Costumer relationship management CRM software solutions and market-oriented enterprises", Proceedings of E-commerce 2008, Palic, 2008.
Radnović B., Ilić M, Živković Z, Corporate Social Responsibility and the nonprofit sector - a unethical marketing strategy or genuine concern, 3rd International Conference of Economic Sciences, Kaposvar 2011.
Riznić D., Marketing Strategy of soft drinks producers, author, Kragujevac, 2003.
Sajeev Varki, Shirley Wong, "Consumer Involvement in Relationship Marketing of Services", Journal of Service Research 2003.
Todorović, J., M. Milisavljević, "Marketing strategy", Faculty of Economics, Belgrade, 1991.
Vasilljev S, Marketing, Singidunum, Belgrade, 2004.
Woo Gon Kim, Jin Soo Han and Euehun Lee, Effects of Relationship Marketing on Repeat Purchase and Word of Mouth, Journal of Hospitality & Tourism Research 2001; 25; 272
Woodcock N., Stone M., Machtynger L., "Customer relationship Marketing: Get to know yor Customers and win their loyalty", Kogan Page, 2002.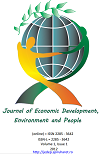 How to Cite
Ilic, M., Radnovic, B., & D. Zivkovic, Z. (2012). SOCIALY RESPONSIBLE MARKETING - YESTERDAY AND TODAY. Journal of Economic Development, Environment and People, 1(3), 59–73. https://doi.org/10.26458/jedep.v1i3.28
License
Journal of Economic Development, Environment and People
by
Authors
is licensed under a
Creative Commons Attribution-NonCommercial-ShareAlike 4.0 International License
.
Based on a work at
http://ojs.spiruharet.ro/index.php/jedep/issue/archive
.