Which Governments May Control the Mass Media: Iran and Kurdistan as a Case Study?
Keywords:
Media and Democracy
Abstract
 Abstract   This paper is the comparative study in order to discover the motives of using censorship on Media.  The main argument of this study is to determine the "Using of Censorship on Media in different government states" Consistently, the study depends on document analysis method and academic sources as well.Correspondingly, the study focuses on Media and democracy and then Mass Media in Iran and Kurdistan region of Iraq.  Finally, the law of press in Iran and Kurdistan will be analysis to know the key elements of censorship in both governments.
References
The list of References:
NORDENSTRENF, Kaarle (2001). Media and Democracy. Journal of Television & new media, 2 (1), 57.
DAY, Nancy (2001).Censorship or Freedom of Expression. USA. Lerner.
JEFFERSON, Thomas (1990). Toward a Theory of Press-State Relations in the United States. Journal of Communication, 40 (2), 103 – 127.
DENNIS, Everette and SNYDER, Robert (1998). Media and democracy. USA, Library of congress.
VALI, Nasr (2004). Iran's Democracy Debate. Journal of Middle East Policy, 11(2), 94.
BBC (2011). Iran profile (Online). Last Updated 9 November 2011 at: http://www.bbc.co.uk/news/world-middle-east-14541327
BBC (2007). Iran censorship 'getting worse' (Online). Last Updated 14 June 2007 at: http://news.bbc.co.uk/1/hi/world/middle_east/6751819.stm
SREBERNY, Annabelle and KHIABANY, Gholam (2010). Blogistan: The Internet and Politics in Iran. London. I.B. TAURIS.
BERZINJY, Dana (2011). Freedom of Speech in Kurdistan Regional Government (KRG) /Iraqi Kurdistan (Online). Last accessed 9 August 2011 at: http://www.ekurd.net/mismas/articles/misc2011/8/state5327.htm
Al Jazeera (2009). Media control in Iran (Online), Last updated 26 Jun 2009 at: http://www.aljazeera.com/programmes/listeningpost/2009/06/200962612250139720.html
SALIH, Roshan (2005). Report lists worst censorship culprits (Online). Last Accessed 4 May 2005 at: http://english.aljazeera.net/archive/2005/05/20084101472133608.html
SIEBERT, F, PETERSON.T and SCHRAMM, W (2000). FOUR THEORIES OF THE PRESS. Stratford, Ayer.
KURDISTAN (2008). The Essential Law of Journalism in Kurdistan, Erbil, Regional Presidency.
IRAN (1987). Press Law. Tehran. Regulation of the Media in the Islamic Republic of
Iran.
RUDAW (2011). British MP: We Want to Support a Kurdistan that Respects Human Rights (Online). Last accessed 26 JUNE 2011 at: http://www.rudaw.net/english/kurds/3781.html
CAMBRIDGE Dictionary (2011). Definition of Democracy (Online). Last accessed 28 December 2011at: http://dictionary.cambridge.org/dictionary/british/democracy?q=democracy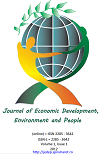 License
Journal of Economic Development, Environment and People
by
Authors
is licensed under a
Creative Commons Attribution-NonCommercial-ShareAlike 4.0 International License
.
Based on a work at
http://ojs.spiruharet.ro/index.php/jedep/issue/archive
.