Scientometric Indicators as a Way to Classify Brands for Customer's Information
Keywords:
customer satisfaction, scientometric indicator, classification
Abstract
The paper proposes a novel approach for classification of different brands that commercialize similar products, for customer information. The approach is tested on electronic shopping records found on Amazon.com, by quantifying customer behavior and comparing the results with classifications of the same brands found online through search engines. The indicators proposed for the classification are currently used scientometric measures that can be easily applied to marketing classification.
References
L. Egghe. Theory and practice of the g-index. Scientometrics. 2006, 69(1): pp. 131-152, DOI: 10.1007/s11192-006-0144-7.
L. Egghe. The influence of transformations on the h-index and the g-index. Journal of the American Society for Information Science and Technology, 2008, 59(8): pp. 1304-12.
C. Gini. Concentration and dependency ratios (in Italian). English translation in Rivista di Politica Economica, 1909, 87 (1997): 769-789.
J.E.Hirsch, An index to quantify an individual's scientific research output. Proc.Nat.Acad.Sci. 2005, 102(46): pp. 16569–16572, DOI: 10.1073/pnas.0507655102.
H. S. Bansal, P. A. Voyer. Word-of-Mouth Processes within a Services Purchase Decision Context, Journal of Service Research, 2000, 3(2): pp. 166-177.
B. Jin. The AR-index: complementing the h-index, ISSI Newsletter, 2007, 3(1), p.6.
K. Murray. A Test of Services Marketing Theory: Consumer Information Acquisition Activities, Journal of Marketing , 1991, 55(1) .
Bisphenol A (BPA) Information for Parents [Online], Last Accessed April 18, 2012. Available at http://www.hhs.gov/safety/bpa/
U.S. Food and Drug Administration. Update on Bisphenol A for Use in Food Contact Applications: January 2010; Updated March 30, 2012. Last Accessed April 18, 2012. Available at http://www.fda.gov/newsevents/publichealthfocus/ucm064437.htm .
Order Adding a Toxic Substance to Schedule 1 to the Canadian Environmental Protection Act 1999, Canada Gazette Part II. 13 October 2010; 144(21):1806–18. Last Accessed April 18, 2012. Available at: http://www.gazette.gc.ca/rp-pr/p2/2010/2010-10-13/pdf/g2-14421.pdf
M. Mittelstaedt. Canada first to declare Bisphenol A toxic. Globe and Mail Canada, Available at http://www.theglobeandmail.com/news/national/canada-first-to-declare-bisphenol-a-toxic/article1755272/, 2010
EU to ban Bisphenol A in baby bottles in 2011. Last Accessed April 18, 2012. Available at http://ec.europa.eu/dgs/health_consumer/dyna/consumervoice/create_cv.cfm?cv_id=716
BPA-Free Baby Bottles, Source: http://www.parents.com/baby/feeding/bottlefeeding/bpa-free-baby-bottles/, last accessed April 1, 8, 2012.
Baby Bottles: Reviews, Source: http://www.consumersearch.com/baby-bottles, last accessed April 18, 2012.
The Five Best Baby Bottles, Source: http://www.lilsugar.com/Five-Best-Baby-Bottles-7515262, last accessed April 18, 2012.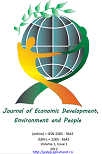 Additional Files
License
Journal of Economic Development, Environment and People
by
Authors
is licensed under a
Creative Commons Attribution-NonCommercial-ShareAlike 4.0 International License
.
Based on a work at
http://ojs.spiruharet.ro/index.php/jedep/issue/archive
.