Foreword
Abstract
Society today is in transition. We can see it. We live in it. Actually, the mankind's history is a transition: from simple to complex, from primitivism to civilization. There has been a permanent change in ideas, mentalities, knowledge, institutions and technologies....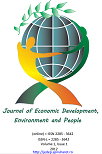 License
Journal of Economic Development, Environment and People
by
Authors
is licensed under a
Creative Commons Attribution-NonCommercial-ShareAlike 4.0 International License
.
Based on a work at
http://ojs.spiruharet.ro/index.php/jedep/issue/archive
.