Arbitral Tribunal Power to Disqualify Unethical Counsel
Keywords:
international arbitration, arbitrator, counsel, party representative, guidelines, conflicts of interest
Abstract
In specific matters of conflicts of interest ethical issues in connection with the parties' legal representatives could occur in the course of arbitration proceedings. The purpose of this paper is to identify and investigate the current status of the arbitral tribunals and arbitral institutions power to sanction counsel's misconduct in the event of conflicts of interest. Parties have a fundamental right to choose the counsel and in the same time the right to an independent and impartial tribunal, therefore the source of the arbitral tribunal power to disqualify a counsel is a hot topic. There are no express provisions granting arbitrators such power, only soft law instruments, but which have no binding effect as long as the parties do not agree on them. For these reasons, two renowned cases where international arbitral tribunals have dealt with the subject are examined. Developing "truly transnational" ethical rules and their implementation by the arbitral institutions might be a solution. Arbitral tribunals are establishing this issue on the basis of the undertaken and applied international soft law (professional guidelines) which gained credibility and popularity and also became accepted international standards in the arbitration field.
References
Bishop, D. (2010) Ethics in International Arbitration, ICCA 20th Congress Rio de Janeiro. Available at http://www.arbitration-icca.org/media/0/12763302233510/icca_rio_keynote_speech.pdf.
Born, G. (2009) International Commercial Arbitration, Alphen aan den Rijn: Wolters Kluwer, p. 2879, 2880.
Brower, C.N. (2010) The Ethics of Arbitration, Berkeley Journal International Law Publicist vol. 5, p. 8. Available at http://bjil.typepad.com/brower_final.pdf.
Fernández Rozas, J.C. (2010) Clearer Ethics Guidelines and Comparative Standards for Arbitrators, Liber Amicorum Bernardo Cremades, Madrid: La Ley, p. 413-449. Available at http://eprints.ucm.es/11931/1/CLEARER_ETHICS_GUIDELINES_FOR_ARBITRATORS.pdf.
Horvath, G; Wilske, S. (2013) Guerrilla Tactics in International Arbitration, Alphen aan den Rijn: Wolters Kluwer.
Hunter, M.; Paulsson, J. (1985) A Code of Ethics for Arbitrators in International Commercial Arbitration, Arbitration International vol. 13, p. 153.
Olswang, Arbitration Tribunal Upholds Principle of the Immutability of Tribunals. Available at http://www.olswang.com/articles/2009/02/arbitration-tribunal-upholds-principle-of-the-immutability-of-tribunals/ 24 February 2009.
Park W.W. (2009) Arbitrator Integrity: The Transient and the Permanent, San Diego Law Review vol. 46, p. 629, 635.
Paulsson, J. (1992) Standards of Conduct for Counsel in International Arbitration, American Review of International Arbitration vol. 3, p. 214, 215.
Peters, P. (2010) Can I do this? – Arbitrator's Ethics, Available at http://kluwerarbitrationblog.com/blog/2010/11/09/can-i-do-this-%E2%80%93-arbitrator%E2%80%99s-ethics/.
Rau, A. S. (2014)2014-01. Available at http://ssrn.com/abstract=2403054.
Rogers, C. (2014), Ethics in International Arbitration, Oxford and New York: Oxford University Press.
Rogers, C; Jeng, J. (2014), The Ethics of International Arbitrators, The Leading Arbitrators' Guide to International Arbitration, Third edition, New York: Juris, p. 175-206.
Sands, P. QC (2011) Conflict and Conflicts in Investment Treaty Arbitration: Ethical Standards for Counsel, Evolution in Investment Treaty Law and Arbitration, Cambridge: Cambridge University Press, p. 21, 22. Available at https://books.google.ro/books?id=wboa4_uTTD8C&printsec=frontcover#v=onepage&q&f=false.
Whitsitt, E. (2010) ICSID Tribunals Affirms Power to Exclude Counsel, But Declines to Do So, Investment Treaty News 6. Available at https://www.iisd.org/itn/2010/02/10/icsid-tribunal-affirms-power-to-exclude-counsel-but-declines-to-do-so-2/.
Wilske, S. (2011) Arbitration Guerrillas at the Gate, Austrian Yearbook on International Arbitration 2011, Wien: Manz, p. 325.
Ziadé, N.G. (2015) How Should Arbitral Institutions Address Issues of Conflicts of Interest? Festschrift Ahmed Sadek El-Kosheri, Alphen aan den Rijn: Wolters Kluwer.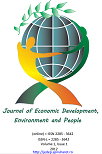 Additional Files
License
Journal of Economic Development, Environment and People
by
Authors
is licensed under a
Creative Commons Attribution-NonCommercial-ShareAlike 4.0 International License
.
Based on a work at
http://ojs.spiruharet.ro/index.php/jedep/issue/archive
.