Innovative Solutions for Companies to Reduce Gender Gaps (UK Study Case)
Keywords:
gender gap, innovation, human resource toll
Abstract
For many years the gender gap has been a complex reality having economic implications and social decisiveness. No matter the percentage recently decreased, we still confront with social discriminations. In this paper we focused on the UK labour market so we developed a case study for a logistics company, using classification of the employees in different pay bands. Based on this study we created a state of the art human resource tool that can be applied worldwide and that help firms to analyse the root causes and to reduce the gender gap.
References
Annual Survey of Hours and Earnings (ASHE), April 2010
Andrei Angheluta, Project on Cross gender DHL salary comparison, DHL, 2011
A., Angheluta, C.Costea, (2011), Sustainable go-green logistics solutions for Istanbul metropolis. Transport Problems Journal 6 (2): 59-70. http://transportproblems.polsl.pl/pl/Archiwum/2011/zeszyt2/2011t6z2_08.pdf.
Angheluta, A., Costea C., (2010) Utilization of e-Logistics in multinational companies to overcome difficulties of today's economic environment, Management Marketing, ISSN 1842-0206 Vol 5 no. 1 http://www.managementmarketing.ro/arhiva.php?var[22]=en&var[1]=1&var[3]= 2010 http://ideas.repec.org/a/eph/journl/v5y 2010i1n6.html; http://www.managementmarketing.ro/autori.php?var[22]=ro&var[0]=autori&var[1]=Carmen%20COSTEA&var[2]=177
Blumberg, Rae, (1991), "Income under Female versus Male Control." In Blumberg, Rae, eds., Gender, Family and Economy: The Triple Overlap. Newbury Park, CA: Sage Press.
Budlender, Debbie, and Guy Hewitt, (2003), Gender Budgets Make More Cents. Country Studies and Good Practices. London: Commonwealth Secretariat.
Costea, C., and A. Angheluta, Contributions to the development of e-logistics as a smart process, in International Journal - Dynamics of Socio-Economic Systems JDYSES 2 (1): 63–80. http://www.dyses.org.ar/ojs2333/index.php/jdyses/article/view/16 .
Delistavrou A., Tilikidou, I. (2014), Are Greeks' Unconcerned about Ethical Market Choices, Journal of Economic Development, Environment and People Vol. 3, Issue 4 URL: http://jedep.spiruharet.ro acc at 13.03.2016
IDS Pay Report, Research and analysis on pay and benefits, No. 1065, January 2011
Knowles, Stephen, et al, "Are Educational Gender Gaps a Brake on Economic Development? Some Cross-Country Empirical Evidence." Oxford Economic Papers 54: 118-149, 2002
DFID (Department for International Development). (20000, Breaking the Barriers: Women and the Elimination of World Poverty. UK: DFI
Zacharakis, A. L. et al, (2001) Global Entrepreneurship Monitor National Entrepreneurship Assessment: United States of America 2001 Executive Report. Ewing Marion Kauffman Foundation: Kauffman Center for Entrepreneurial Leadership.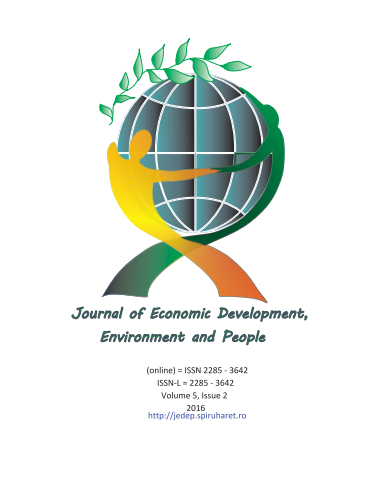 How to Cite
ANGHELUTA, A., MIHOREANU, L., & COSTEA, C. (2016). Innovative Solutions for Companies to Reduce Gender Gaps (UK Study Case). Journal of Economic Development, Environment and People, 5(2), 37–46. https://doi.org/10.26458/jedep.v5i2.487
License
Journal of Economic Development, Environment and People
by
Authors
is licensed under a
Creative Commons Attribution-NonCommercial-ShareAlike 4.0 International License
.
Based on a work at
http://ojs.spiruharet.ro/index.php/jedep/issue/archive
.