Mountain law and climate change
Keywords:
global warming, climate indicators, climate change, mountain area, mountain law
Abstract
       This paper presents 22 indicators used to put into evidence the actual global warming trends. The indicators are the outputs of a detailed research activities performed by scientists from all over the world. These 22 indicators were divided into eight separate categories: atmosphere and climate; glaciers, snow and ice; marine systems; terrestrial ecosystems and biodiversity; water; agriculture; economy; human health. Some specific mountain area aspects are relieved with Mountai Low in Romania. 
References
JELEV IOAN, ENERGY-ENVIRONMENTAL RELATIONSHIP WITHIN THE CONTEXT OF ROMANIA'S INTEGRATION IN THE EUROPEAN UNION. PART I, CLIMATE CHANGES, EMERG REVIEW, ACADEMY EDITION, 2005, 20p ..
JELEV VIORICA, NATURAL RESOURCES AND SUSTAINABLE DEVELOPMENT IN MOUNTAIN ECONOMY, INTERNATIONAL CONFERENCE ON RURAL DEVELOPMENT IN THE CONTEXT OF EUROPEAN COMPETITIVENESS (RDCEC), BUCHAREST, 28-29 APRIL, 2018 USH
JELEV VIORICA, NATURE, MODEL OF ECONOMIC AND SOCIAL ORGANIZATION BASED ON THE GEOGRAPHIC BASIC CONCEPT - THE NATIONAL, ANNUAL SCIENTIFIC CONFERENCE AND THE THIRD SCIENTIFIC SEMINAR IN THE ECONOMIC ACADEMIC MONTANOLOGY SCHOOL MONTAN 30 AUGUST 2018 VATRA DORNEI
Jelev Viorica, SCHIMBĂRILE CLIMATICE ȘI ECONOMIA MONTANĂ
CONFERINȚA ȘTIINȚIFICĂ INTERNAȚIONALĂ ,,BIODIVERSITATEA ÎN CONTEXTUL SCHIMBĂRILOR CLIMATICE", EDIȚIA A II-A, Chisinau, 23 nov.2018
IMPACTS OF EUROPE'S CHANGING CLIMATE, AN INDICATOR-BASED ASSESSMENT, EEA REPORT NO. 2/2004.
https://www.cotidianul.ro/legea-muntelui-aduce-bani-in-buzunar/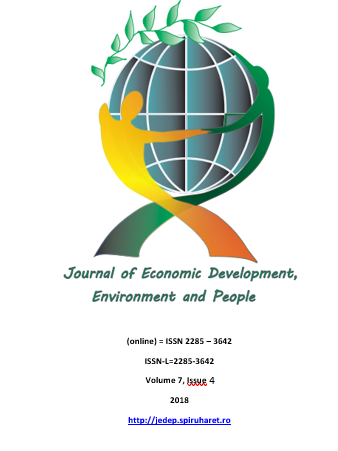 Downloads
How to Cite
Jelev, V. (2018). Mountain law and climate change. Journal of Economic Development, Environment and People, 7(4), 80–86. https://doi.org/10.26458/jedep.v7i4.599
License
Journal of Economic Development, Environment and People
by
Authors
is licensed under a
Creative Commons Attribution-NonCommercial-ShareAlike 4.0 International License
.
Based on a work at
http://ojs.spiruharet.ro/index.php/jedep/issue/archive
.