Open source MySQL Browser for Open Innovation
Keywords:
MySQL, GCC, MinGW, GTK , Open inovation
Abstract
Abstract. Our purpose is to cross-compile MySQL driver source code for Linux on Windows architecture using a tool chain in order to build a neutral valid graphic interface on 32 bits. Once achieving this goal we could say that every possible Open source application can be built and run on Windows with maximum efficiency concerning costs and resource. This browser is an example of open innovation because its source code is free for anybody willing to develop new software apps for business and uses only Open source tools.
References
Open source MySQL Browser for Windows, http://mysqlbrowser.codeplex.com/
C API Data Structures, http://dev.mysql.com/doc/refman/5.0/en/c-api-data-structures.html
Minimalist GNU for Windows(MinGW), http://www.mingw.org/
CMake cross-platform open-source build system, http://www.cmake.org/
GTK+ the GIMP Toolkit, http://www.gtk.org/
Boost C++libraries, http://www.boost.org/
Doxygen Generate documentation from source code, http://www.stack.nl/~dimitri/doxygen/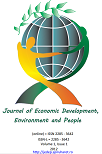 Additional Files
License
Journal of Economic Development, Environment and People
by
Authors
is licensed under a
Creative Commons Attribution-NonCommercial-ShareAlike 4.0 International License
.
Based on a work at
http://ojs.spiruharet.ro/index.php/jedep/issue/archive
.