Implementing Regulation regarding Minority Rights in Romania Special Overview of the Legal Frame of Romanian Law and Constitution
Keywords:
public administration, non-territorial autonomy, minorities, Administrative Code
Abstract
The general concept of non-territorial autonomy is analyzed in the specialized doctrine from various perspectives - considered, in fact, as its attributes – such as, cultural, linguistic, educational, traditional and religious perspectives- all considering the identity of the minority group that lives in a majority community.The present paper, part of a larger research, proposes, on the one hand, an analysis of the legal framework regarding non-territorial autonomy in Romania - from the perspective of the regulations regarding the establishment, organization and functioning of the authorities with their role in the elections and the administrative structures at a local level and, whilst considering the role played by the minority groups in this framework. According to the recently adopted New Administrative Code with big impact on minorities' lives, another purpose of this research is to track how they are applied to the provisions on the linguistic rights of the national minorities included in Local Public Administrative Regulation. The objectives of this research will be, to use the data obtained in national reports and secondly, to making recommendations on the most efficient way in which the legislative norms regarding the protection of minorities can be applied, focusing on costs, human and financial resources
References
Salat L., Novak C.Z., Ethnicity, Nationalism and the Minority Regime in Lavinia Stan, Diane Vancea, eds. Post-Communist Romania at Twenty-Five, Lanham: Lexington Books, 2015, pp.63-85;
Nimni Ephraim, Nationalism, Ethnicity, and Self-Determination: A Paradigm Shift in Keith B., O'Neill S., eds. After the Nation? – Critical Reflections on Nationalism and Postnationalism, Palgrave Macmillan, 2010, pp.21-37;
Tove Maloy, Sonya Wolf, Linguistic Minority Rights in the Danish-German Border Region: Reciprocity and Public Administration Policies, in International Journal on Minority and Group Rights, Brill/Nijhoff, 2016, 23(4):485-504;
Csergő, Zsuzsa; Vangelov, Ognen; Vizi, Balázs. Minority Inclusion in Central and Eastern Europe. Intersections. East European Journal of Society and Politics, [S.l.], v. 3, n. 4, jan. 2018; pp.5-17;
Osipov Alexander, Can "Non-territorial Autonomy serve as analytical term? Between "Thick" and "Thin" approaches, in International Journal on Minority ang Group Rights, vol 25: Issue 4, Brill/Nijhoff, 2018, pp.621-646
Vedinaș Verginia, Drept administrativ, Universul Juridic Publishing House, Bucharest, 2020;
Romanian Constitution, revised and adopted by national referendum on 2003, republished in Official Gazette no. 758/29.22.2003;
Administrative Code of Romania – Government Emergency Ordinance no. 57, published in Official Gazette no. 555/5.07.2019;
Law 208/2015 regarding the election of the Senate and the Chamber of Deputies, as well as for the organization and functioning of the permanent electoral authority, published in Official gazette no. 553/24.07.2015;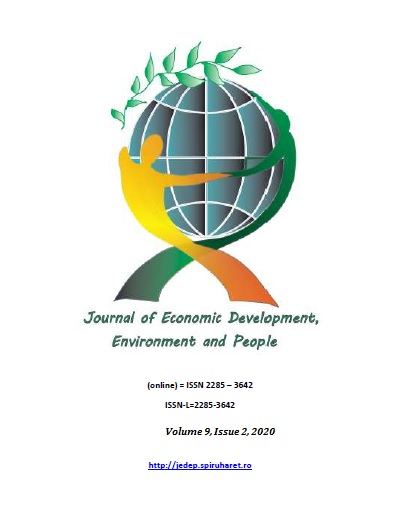 Downloads
License
Journal of Economic Development, Environment and People
by
Authors
is licensed under a
Creative Commons Attribution-NonCommercial-ShareAlike 4.0 International License
.
Based on a work at
http://ojs.spiruharet.ro/index.php/jedep/issue/archive
.