Virtual teams and E-leadership in the context of competitive environment - Literature review
Abstract
Globalization, accelerated movement of goods, technology and information transformed society in recent decades in unprecedented ways. In the context of a generation that focuses on continuous innovation and creativity at the highest levels, ability to lead and motivate people represents one of the best qualities of a manager, regardless of the activity. Unprecedented growth of competition, the need to reduce costs by automating continuous processes and create a competitive advantage in a market where the supply of goods and services is similar are forcing companies to put increasing emphasis on human resources. As part of creating competitive advantage, organizations relocate and create virtual teams in order to reduce costs, but keep the quality of the products or service, but they self-expose to risks if the virtual teams are not managed efficiently.The present article aims to explore new directions for leadership competencies in virtual context, reviewing the basic team characteristics from the traditional environment through new requirements based on virtual experience particularities.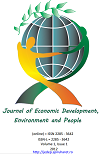 Additional Files
How to Cite
Manole, I. (2014). Virtual teams and E-leadership in the context of competitive environment - Literature review. Journal of Economic Development, Environment and People, 3(3), 72–76. https://doi.org/10.26458/jedep.v3i3.77
License
Journal of Economic Development, Environment and People
by
Authors
is licensed under a
Creative Commons Attribution-NonCommercial-ShareAlike 4.0 International License
.
Based on a work at
http://ojs.spiruharet.ro/index.php/jedep/issue/archive
.