Expansion for Who, Markets or The Poor?
Keywords:
Quantitative Easing, Federal Reserve, Poverty, The Poor
Abstract
In this study we examine the impacts of expansionary monetary policies executed by the Federal Reserve on poverty in the United States of America. It has been discussed in various studies that the Fed's expansionary monetary policies create a less positive impact on economy as a whole than financial sector. In this study, the expansionary effects of expansionary policies on the poor living in America will be discussed. The main thesis of the study is that the poor living in the United States benefited less from expansionary monetary policies than either financial sector or the US economy as a whole. When discussing the thesis of the study both employed and unemployed poor will be discussed. Therefore, it will be questioned that the decrease in the unemployment rate is the indicator of the fight against poverty.Indicators such as indices and interest rates in the financial markets, and indicators such as growth rates and unemployment rates in the overall economy are regarded as essential indicators but as for poverty it's hard to find such regarded indicators. Unfortunately, there are not too many statistics about the poor living in the United States in the reports of the international organizations. Thus the main trouble of the study is that international comparisons are almost impossible. Therefore, various indicators produced by the U.S. government agencies of various indicators will be used in this study.
References
Areuea Journal .(1978), Areuea Journal,Journal of the American Real Estate &Urban Economics. Available at http://web.a.ebscohost.com/ehost/pdfviewer
AKYEL R. (2013); The President of Turkish Court of Accounts ,p.41.
Dutta M . (2003) New Economic Dimensions in Economic Thought: The Case of Environmental Economics, Journal of the Alumni Association of the Economics Department Calcutta University, pp.95–109.
http://bbs.bartin.edu.tr/dosyalar/DersMateryal/44866u2ve3k%C4%B1tl%C4%B1kka nunualternmalyt.pdf
http://journal.dogus.edu.tr/ojs/index.php/duj/article/view/175/191
[ 6 ]http://nation.foxnews.com/2014/01/28/al-gore-suggests-fertility-management-fight-global-warming
http://tr.wikipedia.org/wiki/K%C3%BCresel_%C4%B1s%C4%B1nma
http://www.bilgiustam.com/surdurulebilir-kalkinma-nedir
http://www.nedirnedemek.com/%C3%A7evre-ekonomisi-nedir-%C3%A7evre-ekonomisi-ne-demek
http://www.ntvmsnbc.com/id/25436041; İsveç'in çöpü bitti
http://www.sayistay.gov.tr/yayin/yayinicerik/145.k1Cevsemtr.pdf
Mulder P.; Jeroen C.J.M.; Bergh V. D. (2001), Evolutionary Economic Theories of Sustainable Development, Blackwell Publishers.
ÖZDEK, Y. E. (1993) İnsan Hakkı Olarak Çevre Hakkı, TODAIE Yayınları.
Press Release. (2000) "Sierra Club Endorses Gore".
Stavins; R. N. (2000) A Draft- A Two-Way Street between Environmental Economics and Public Policy, Edward Elgar Publishing Inc.
Yıldırım U.; Marin M. C. (2004) Çevre Sorunlarına Çağdaş Yaklaşımlar, Beta Yayınları.
Yrd. Doç. Dr. KAYA, U. (2006) İşletme-Doğal Çevre İlişkilerinin Mali Tablolar Aracılığıyla Raporlanması ve Denetimi, SPK Yayınları.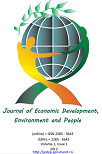 Additional Files
How to Cite
KENDIRLI, S., KUSGOZOGLU, S., & BASARAN, M. S. (2014). Expansion for Who, Markets or The Poor?. Journal of Economic Development, Environment and People, 3(4), 59–68. https://doi.org/10.26458/jedep.v3i4.86
License
Journal of Economic Development, Environment and People
by
Authors
is licensed under a
Creative Commons Attribution-NonCommercial-ShareAlike 4.0 International License
.
Based on a work at
http://ojs.spiruharet.ro/index.php/jedep/issue/archive
.