Treasury Financial Management company in the current economic crisis
Abstract
Abstract. Any management decision has a direct monetary impact on the structure uses and sources of cash. Cash Management aims to permanently maintain a balance between inflows and outflows of cash and cash to predict the impact of any operational decisions that could affect these flows. The success of any business requires good management of all these flows.The principle of this approach is relatively simple: using a minimum of ores to obtain maximum performance in a given period. Cash management is an extremely complex issue, and balancing receipts and payments flow is a constant struggle for survival of firms.In It work we will focus on how they are oriented in a going concern basis, cash inflows and financing needs of current operations. Managers should understand and know the specific movements of cash within the business system, driven daily decisions on operating, investing or financing, and a variety of external circumstances which affect the company. Such decisions and events can affect the company's ability to pay its obligations to obtain credit from suppliers, banks or credit institutions and to maintain an operational level in line with the company's products and services through investments.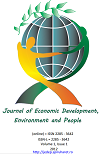 Additional Files
How to Cite
GEORGESCU, F. (2015). Treasury Financial Management company in the current economic crisis. Journal of Economic Development, Environment and People, 4(1), 24–31. https://doi.org/10.26458/jedep.v4i1.100
License
Journal of Economic Development, Environment and People
by
Authors
is licensed under a
Creative Commons Attribution-NonCommercial-ShareAlike 4.0 International License
.
Based on a work at
http://ojs.spiruharet.ro/index.php/jedep/issue/archive
.