The Dimension of Atypical Employment in Romania
Abstract
Official statistics can not always highlight the true scale of atypical work phenomenon in Romania because of the multitude of the non-standard forms of employment and because of the fact that its regulatory and monitoring mechanisms are build in accordance with the typical work model. The purpose of our research is to try to estimate the atypical employment in Romania using a variety of statistical data basis.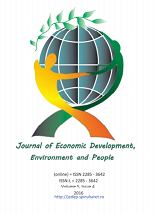 Additional Files
License
Journal of Economic Development, Environment and People
by
Authors
is licensed under a
Creative Commons Attribution-NonCommercial-ShareAlike 4.0 International License
.
Based on a work at
http://ojs.spiruharet.ro/index.php/jedep/issue/archive
.