Regional Economic Growth; Socio-Economic Disparities among Counties
Keywords:
regional economic development, economic disparities, institutional approach
Abstract
State level economy has always been relying on its major metropolitan area's economic success. So, such metropolitan agglomerations have been considered the only agents that can foster the state's economic standing as if other economic places do (or may) not have significant contribution to the regional economy. In contrast, as some major cities enhance their economic well-being and agglomerate in specialized sector, the rest of the region lose their economic grounds or stay constant by widening the economic gap among cities. Therefore, an institutional approach can help to establish new regional arrangements to substitute all economic places to coordinate each other and succeed the economic growth as part of state government by reducing the disparities. In this sense, this study builds upon the inquiry that seeks the impacts of some economic disparities among economic places (counties) on the performances of state level regional economy.
References
Barnes, William R. and Larry C. Ledebur (1992); City Distress, Metropolitan Disparities and Economic Growth, A Research Report of the National League of Cities, Washington D.C.
Rusk D. (2000); Growth Management: The Core Regional Issue, Reflections on Regionalism, Brookings Institute.
Gulick, L. H. (1962); The Metropolitan Problem and American Ideas. New York: Alfred Knopf
Hooghe, L. and Gary Marks (2003); Unraveling the Central State, but How? Types of Multi-level Governance, American Political Science Review, Vol. 97, No. 2
Keating, M (2004); The Political Economy of Regionalism, Frank Cass & Co Ltd, Oxon.
Miller D, Clyde Mitchell-Weaver and Ronald Deal (2000); Multilevel Governance and Metropolitan Regionalism in the USA, Urban Studies Journal, 37: 851
Olberding, Julie Cencula (2002); Does Regionalism Beget Regionalism? The Relationship between Norms and Regional Partnerships for Economic Development, Public Administration Review, Vol. 62, No.4
Ostrom, Elinor. (1998); A Behavioral Approach to the Rational Choice Theory of Collective Action, American Political Science Review 92(1): 1-22.
Savitch, H. V., and Ronald K. Vogel (2000). Metropolitan consolidation versus metropolitan governance in Louisville, State and Local Government Review 32 (3): 198-212.
Tiebout , Charles M (1956); A Pure Theory of Local Expenditures, Journal of Political Economy 64 ( 5 ): 416 – 24 .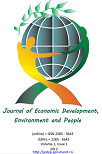 Additional Files
How to Cite
SARICA, S. Özgür. (2014). Regional Economic Growth; Socio-Economic Disparities among Counties. Journal of Economic Development, Environment and People, 3(4), 25–36. https://doi.org/10.26458/jedep.v3i4.82
License
Journal of Economic Development, Environment and People
by
Authors
is licensed under a
Creative Commons Attribution-NonCommercial-ShareAlike 4.0 International License
.
Based on a work at
http://ojs.spiruharet.ro/index.php/jedep/issue/archive
.